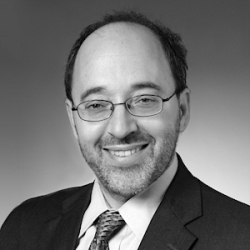 Phone: (415) 338-1471
Email: a1harris@sfsu.edu
Location: Marcus Hall 461
Andrew Harris joined SF State in 2016 after four years as the dean of Arts and Humanities at Keene State College in New Hampshire, overseeing 12 academic departments, a performing arts center, art gallery and the Cohen Center for Holocaust and Genocide Studies.
Between 1999 and 2012, Harris served in various academic and administrative positions at Bridgewater State University in Massachusetts, including associate provost, executive assistant to the president and faculty member in the history department. While a faculty member at Bridgewater he served as honors director and as a founding co-coordinator of the university's undergraduate research program. He has co-authored successful institutional grants in support of faculty development and promoting student success for underserved populations. Harris was also an American Council on Education Fellow at the University of Rhode Island.
He is the author of Policing the City: Crime and Legal Authority in London, 1780-1840 and the co-author of Empire, State and Society: Britain Since 1830.
Harris received a Bachelor's degree in history from Pomona College. He earned both a Master's degree and a Ph.D. in history from Stanford University.