Friday, December 14, 2018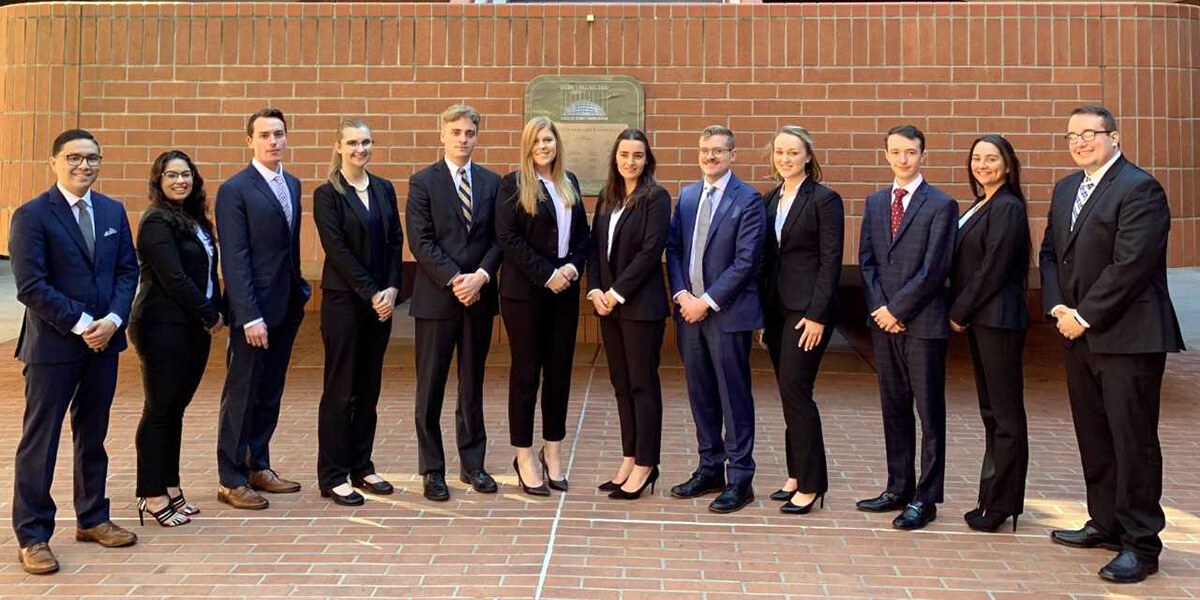 San Francisco State's newest intercollegiate team takes students into one of the world's most intense and storied battlefields: the courtroom. The Gators' Moot Court team, created in fall 2017, is comprised of 12 Political Science students who argue real cases in mock trials.
Most recently, the team advanced to the Sweet 16 in the American Moot Court Association Western regional tournament, held at California State University, Fresno, on November 30 and December 1. Devon Montes was the Gators' top individual orator, finishing 12th among all speakers.
The team reached the semifinals of the California State Long Beach Fall Classic 2018 on November 3. SF State Moot Court President Abigail Richards placed fourth.
"I have always known that I wanted to be a lawyer, but it wasn't until Moot Court that I gained the confidence to actually believe that I am capable of achieving my goal," says Yana Gagloeva, a senior and Moot Court vice president. "Moot Court taught me how to look at two sides of every story, advocate for both sides — sometimes back to back — and know more about constitutional law than most [first-year law] students."
Nearly 450 college teams competed in American Moot Court Association tournaments last year.
Assistant Professor Nick Conway is the SF State team's adviser and the American Moot Court Association's board secretary.
"The students and I run several practice arguments, where I attempt to poke and prod at the legal positions staked by the students," says Conway, a former lawyer and administrative law judge. "Questions focus on the facts of the case problem, the related law and the occasional oddball question just to be sure they are prepared for anything."
Moot Court provides students a high-impact, immersive educational experience. It teaches research, writing and oratory skills that are components of legal education, Conway says.
It all comes down to commitment, Gagloeva adds. "If you are committed and put in the work, it will pay off. Anyone can learn the law and make a killer argument."
— Ufuoma Umusu
Links
Photo, from left: From left: Devon Montes, Aida Castañeda, Brandon Sumrow, Zoe Allred, Owen Nelson, Abigail Richards, Yana Gagloeva, Caleb Krywenko, Ariana Ziolkowski, Liam Sidebottom, Perscilla Romero and Hugo Urioste.