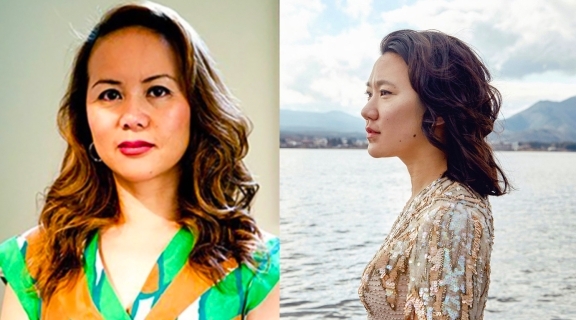 Diana Khoi Nguyen and Lan Duong, reading at the Global Museum
Thursday, April 13
Event Time
04:00 p.m. - 06:00 p.m.
Location
The Global Museum, Fine Arts
Contact Email
poetry@sfu.edu
Overview
Mask requested for in-person attendance
Tune in to the video livestream
Poets Diana Kho Nguyen and Lan Duong each share their work, and engage in conversation with their audience, on this afternoon program at SF State's Global Museum site in the Fine Arts Building. Co-presented by The Poetry Center, DVAN: Diasporic Vietnamese Artists Network, and The Global Museum, in conjunction with the exhibition Textures of Remembrance: Vietnamese Artists and Writers Reflect on the Vietnamese Diaspora, gathering work exploring the date of April 30, 1975, marking the Fall/Liberation of Saigon.
Tags