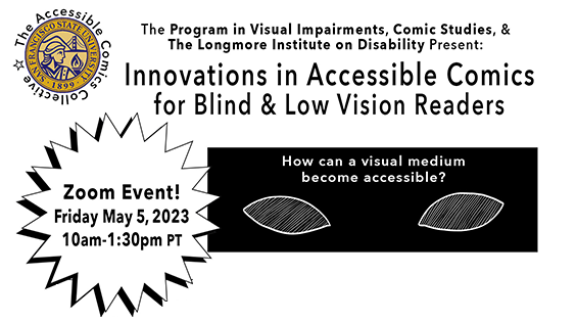 Innovations in Accessible Comics for blind & low vision readers Symposium
Friday, May 05
Event Time
10:00 a.m. - 01:30 p.m.
Contact Email
beitiks@sfsu.edu
Overview
The Program in Visual Impairments, Comic Studies & The Longmore Institute on Disability Present: Innovations in Accessible Comics for blind & low vision readers. A conversation with the prizewinners of the Accessible Comics Collective design competition! The focus of the event will be about reflecting on the process of developing these accessible comics, lessons learned, and opportunities for future innovations. We encourage you to check out the five prizewinners' projects in advance, so you can experience what they've done and share your own thoughts during our event. Here is a
Link to document with background on prizewinners' projects.
There will be a break from 11:30 a.m. to 12 p.m. PT. Zoom link will be sent upon registration. AD/ASL/Captioning will be provided.
For more access needs, please reach out to beitiks@sfsu.edu. To learn more about the Accessible Comics Collective and our past conversations visit: https://spinweaveandcut.com/blind-accessible-comics
Supported by the College of Liberal & Creative Arts.
Tags