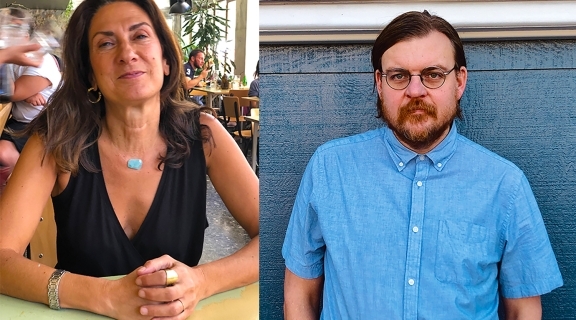 Phoebe Giannisi and Brandon Brown, at The Green Arcade
Saturday, April 22
Event Time
07:00 p.m. - 08:30 p.m.
Location
The Green Arcade, 1680 Market Street, San Francisco
Contact Email
poetry@sfu.edu
Overview
Mask requested for in-person attendance
Tune in to the video livestream [https://www.youtube.com/playlist?list=PL61PYyhbqyuY0YJpACdq82FI8XlcDxC_e]
The Poetry Center and The Green Arcade co-present poet, performer, and scholar Phoebe Giannisi, visiting from her home in Athens, Greece, together with poet and translator Brandon Brown. Giannisi is The Poetry Center's Mazza Writer in Residence for Spring 2023, with her residency including guest appearances in various classrooms at SF State, as well as two public events. The first of these is a solo performance (in Greek and English) followed by a conversation with poet and scholar Eleni Stecopoulos and the audience, Thursday April 20 at The Poetry Center (link below). This second public event, with Bay Area poet Brandon Brown joining in, is the final Poetry Center program at The Green Arcade, where our dear friend Patrick Marks has hosted poets, writers, and artists since the bookstore opened in 2008. Please join us for what should be a memorable evening!
Learn more. [https://poetry.sfsu.edu/event/phoebe-giannisi-and-brandon-brown-green-arcade]