Winners of Marcus Transformative Research Award announced
April 28, 2023

Photo Credit: San Francisco State University
Three College of Liberal & Creative Arts faculty members are this year's recipients of the Marcus Transformative Research Award and will support research in subjects that include the potential for aesthetics and art to enhance cultural understanding, ballroom culture as a space for both healing and celebration, and an examination of racism, xenophobia, and homophobia through the lens of Korean pop music.
Broadcast and Electronic Communication Arts Professor Hamid Khani will produce "Cultural Harmony: In Search of a Common Ground," a documentary film that explores the potential role of aesthetics and art as tools for cultural understanding. The documentary will explore five ancient Judeo-Christian monuments in Iran to promote cultural harmony in an effort to dispel narratives of fear, exclusion and mistrust. The documentary is centered on inclusive, diverse and equitable narrative and constructivist frameworks in search of common cultural heritage and similarities between Judeo-Christian, Iranian and Islamic architecture, art, aesthetics and culture.
"I am excited about this project and thankful to both the college committee and the LCA leadership for giving me the opportunity to highlight our common humanities despite all the noise promoting otherness and us against them mentality through my project," says Khani. "This project is an attempt to contribute to our diverse, yet similar, stories and experiences in line with the LCA's mission 'to find collective solutions to pressing global and social issues.'"
"Get Your 10s" is a feature-length documentary planned by Associate Professor of Cinema Johnny Symons that follows Rashaad Newsome, a Black queer artist from the American South, as he creates his most ambitious project yet: a multi-platform, experiential performance at New York City's Park Avenue Armory. Complete with a 30-foot hologram, a gospel choir, the premier vogue dancers from the US, Japan, Brazil, and Ukraine, and a spirited non-binary artificial intelligence named Being, Rashaad transforms a historic military building into a sanctuary for healing and celebration. In the process, he reveals how art and ballroom culture can help us collectively imagine a brighter future.
"In the wake of the pandemic and a difficult economy, it's an especially challenging time to complete a feature-length documentary and this award provides me with the ability to dig deeply into crafting this important story. At a time when LGBTQ+ lives are being increasingly denigrated and legislated, this film showcases the talents of queer, trans and BIPOC artists and dancers and inspires us to use our imaginations to work towards a more equitable world," says Symons. "The time and funds afforded by this award will go directly towards editing, finishing and releasing the film in festivals and streaming services, with the collaborative support of SFSU students and recent alums."
"Dancing in the Archives of Sincerity" is a book planned by Theatre & Dance Professor Yutian Wong about the intersection of a global health crisis, the resurgence of anti-Asian racism, and dance studies. Using the Korean pop music act BTS (Bangtan Sonyeondon) as a case study, the book examines how conversations about racism/xenophobia, homophobia, cultural hierarchies, and the roles and responsibilities of the artist in society are taking place from the space of Asian popular culture.
"How dance is produced, performed, and taught changed overnight when theaters, studios, and other public spaces closed in response to the COVID-19 pandemic," according to Professor Wong. "Long-held assumptions about dance and how to conduct dance research were completely upended, so my book is a response to teaching about dance and doing dance research in the aftermath of a global health crisis. This Marcus Transformative Research Award affords me the time to reflect on this massive disciplinary shift and complete the book manuscript."
About the The Marcus Transformative Research Award
The Marcus Transformative Research Award provides one semester leave with pay and a $3,000 research budget. The award is made possible by the George and Judy Marcus Funds for Excellence in the Liberal Arts, which was established in 2018 with a $25-million gift to SF State.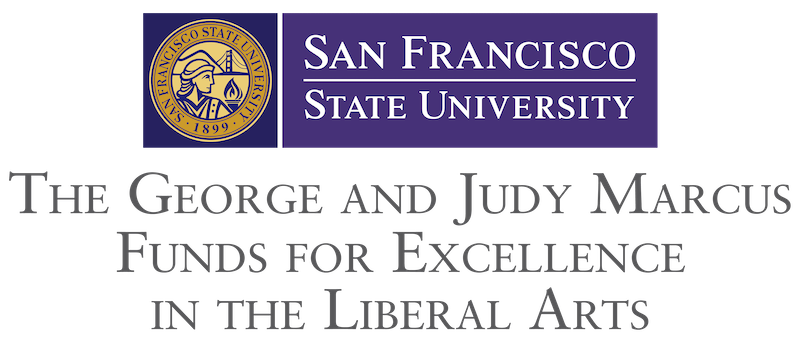 Tags