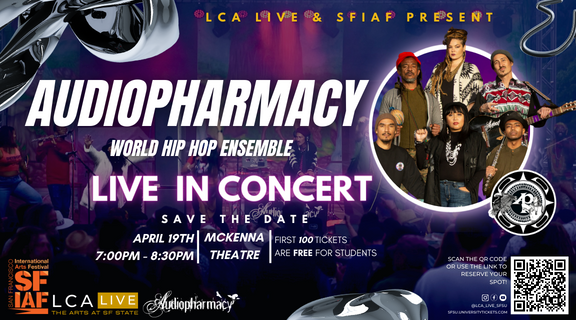 Live in Concert "Audiopharmacy"
Wednesday, April 19
Event Time
07:00 p.m. - 08:30 p.m.
Cost
Free for students, faculty & staff
Location
McKenna Theatre, Creative Arts Building
Contact Email
lcabox@sfsu.edu
Overview
LCA Lives welcomes World Hip Hop Ensemble, Audiopharmacy, to our first main stage production for our Live In Concert series. Audiopharmacy will bring to the stage a multimedia musical performance combining live World Hip-Hop/Soul/Jazz with global musical genres, turntablism, movement, and visual projection fused together to cultivate healing and unity and inspire change. This ensemble of SF State alumni is made up of multicultural community artists with roots indigenous to Turtle Island (North America), Africa, Asia, the Pacific Islands, South America, India, and Europe. Their unique sound is eclectic + avant-garde, yet rooted in the voice of the people and Mama Earth. By intricately fusing turntablism, live instrumentation, global musical styles, poetic lyricism, and indigenous prayers, Audiopharmacy elevates the meaning, sound, and purpose of World Hip Hop.
Tags