Alumna resurrects SFMOMA's Soapbox Derby races
April 20, 2022

Photo Credit: SFMOMA / Nikki Ritcher Photography
A handmade car shaped like a prawn races down a road inside John McLaren Park in San Francisco during the SFMOMA Soapbox Derby on April 10, 2022.
Stella Lochman infuses city with a dose of whimsy
In reviving the San Francisco Museum of Modern Art's (SFMOMA) Soapbox Derby, alumna Stella Lochman (B.A., '08) turned to history — not just to the museum's original 1975 and 1978 soapbox derby races, but to the turn of the last century. The city's first Bay to Breakers, then called the Cross City Race, happened in 1912. The race was part of a series of events planned by the city to boost morale and signal that San Francisco was rebounding after being leveled by the 1906 earthquake and fires.
"The derby marches in those tracks," Lochman says. "It seems like we're out of one wave of the pandemic, but who knows if there's another one behind it? When these moments appear, we need to have an experience of collective joy."
And that's what the third-ever SFMOMA Soapbox Derby brought to the city — a sprinkle of joy mixed with art, community and whimsy, Lochman says.
The April 10 derby drew thousands of spectators and paid homage to the races of the 1970s, when artists like Ruth Asawa and Robert Arneson created wacky contraptions like a car made of bread that raced downhill in John McLaren Park. Forty years later, 57 cars made by Bay Area artists and community members, including an entry by a San Francisco State University art class, competed for 35 artist-made trophies in categories like "Best of the Worst" and "Best Pun."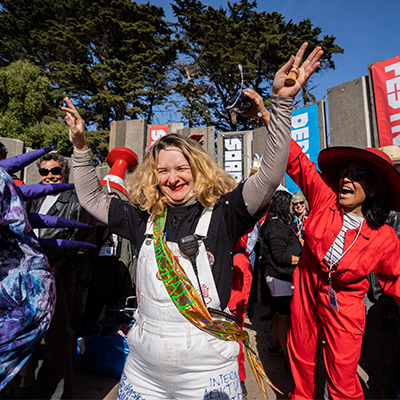 Alumna Stella Lochman celebrates the conclusion of the SFMOMA Soapbox Derby.
Cars shaped like pencils, carrots, erasers and even a knit sweater cleverly called the "Cardigan" sped down the road as people cheered. A San Francisco State sculpture class taught by Professor Michael Arcega took home the award for "Funkiest." The 12-person team spent more than eight weeks developing, designing, engineering, sourcing materials, building and testing their creation: a giant upside-down Frankenstein head named "Mary's Monster." Arcega documented the team's progress on his Instagram.
Lochman, the driving force behind the derby, doesn't even have a driver's license. But she has an interest in the performative and social side of art. That's what compelled her, as SFMOMA's public engagement manager, to bring the races back to life.
"The derby is a beautiful mix of object and performance. It's sculpture, but it's a moving sculpture and it's a sculpture that has a human element," she said. "It's not the serious art that makes people feel intimidated by contemporary art. It's accessible to anyone. Kids love it. Your grandpa loves it."
As the child of bohemian parents, Lochman grew up in San Francisco surrounded by art. She participated in city youth arts programs, attended the Ruth Asawa School of the Arts and later studied art history at SF State. She credits the University's radical past — the 1969 student strikes — with informing her work.
"The de-colonialist programming that has been going on at SF State since 1969 is something I'm immensely proud of and actually look to a lot in my work," she said. Rather than spend her time learning about the Western canon, she opted for a more global perspective taking classes about Caribbean art and Japanese art history.,
Living and breathing art is second nature to Lochman, she says, but she knows her experience with art is not the norm. Her role at SFMOMA, in part, is to integrate the museum into the fabric of the city through partnerships, such as one with San Francisco Public Library and most recently with San Francisco Recreation and Parks for the derby. She dubbed herself the museum's "outdoor cat." And last weekend's races are a purrrfect example of that partnership.
Tags